Delivering bespoke advertising campaigns for concert promoters, venues, music and arts festivals, record labels and artists across the UK​
Advertising Agency for The Arts
We Are GUM
We are fiercely independent, and our hands-on approach ensures our clients receive the best possible service; delivered with passion, creativity and meticulous attention to detail, every time.
GUM started in 2015, printing and distributing posters and flyers for local gigs in the Brighton area. We have since evolved into a talented team of marketing professionals creating and delivering ground-breaking media campaigns across the UK for both independent and national concert promoters as well as major music festivals, renowned venues, record labels and internationally acclaimed artists.
CLASSIC K6 TELEPHONE BOXES
CREATIVE STREET MARKETING
TRANSPORT, STREETSIDE & RETAIL
Glass Animals - 2021 Tour​
Following one of the most exciting and creative releases of 2020, Glass Animals are set to deliver the captivating spirit of Dreamland to crowds across the UK this year. With such strong artwork for the album being rolled across the creatives for this campaign we knew it would be easy to make these ads stand out. We chose a mix of large format billboards and carefully selected phone kiosks to compliment in both target cities plus some classic Brighton seafront B2's to catch the crowds along the promenade this month!
Gerry Cinnamon – The Bonny Album Release 2020​
To celebrate the release of the 'definitive' version of Gerry Cinnamon's second album The Bonny we were approached by his team to hand-pick outdoor locations across the UK to granularly target his biggest fans, many of which would have already purchased the album in some form upon it's original release. We utilised digital 6-sheets in close proximity to record shops and areas of cultural significance in each target city with a statement piece D48 in his hometown of Glasgow. The album debuted at Number 1 upon it's release and was in the top 20 bestselling Vinyl albums of 2020.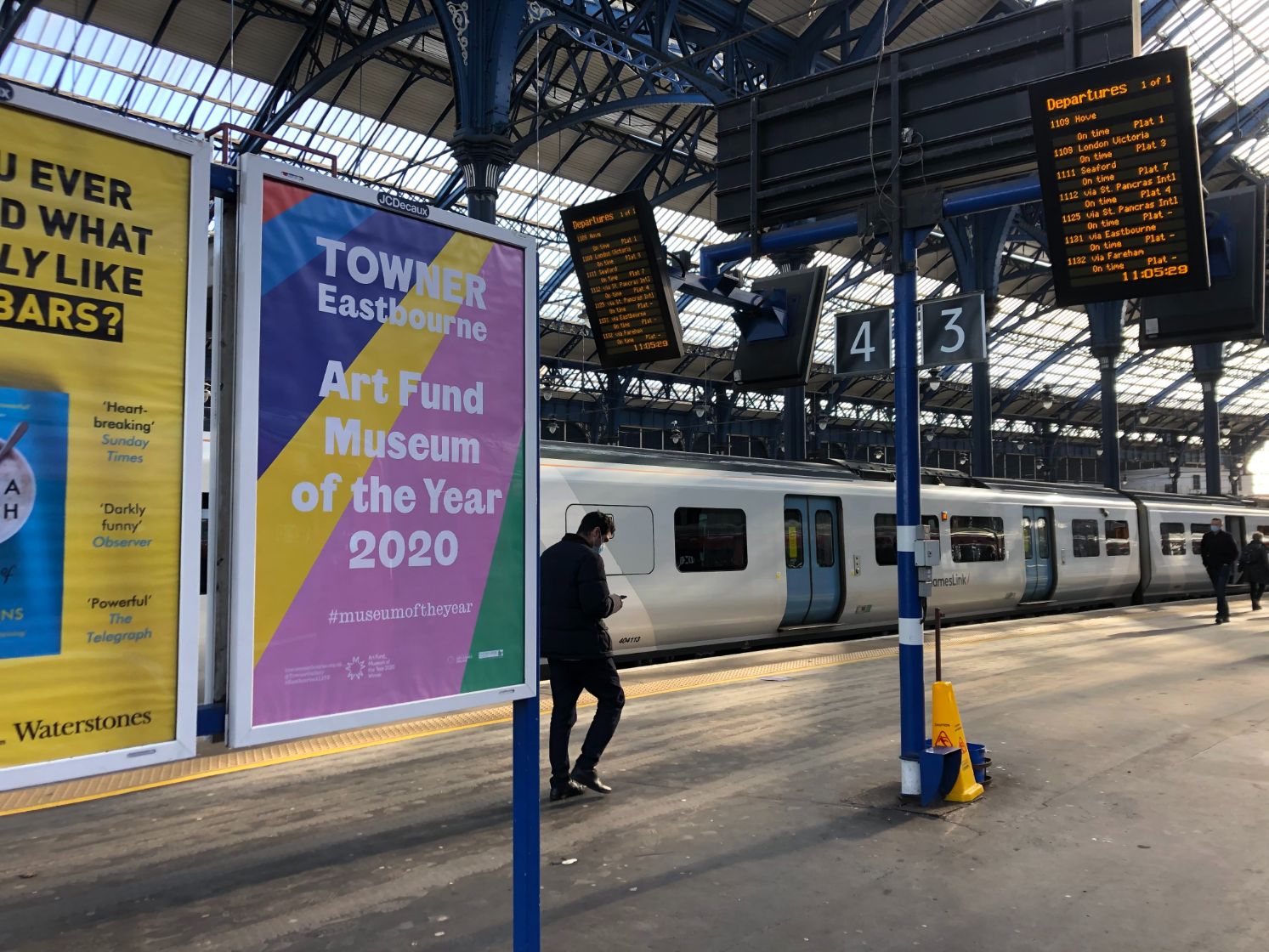 Towner Eastbourne – Art Fund Museum of the Year Award 2020
A fantastic achievement for the team at Towner Eastbourne to receive Art Fund of the Year Award 2020! We were approached by the team to help them spread the word far and wide and truly celebrate the achievement. We selected a mix of National Rail media covering commuter stations with direct rail links into London and Eastbourne itself. The creative for the campaign was super effective and ensured maximum visibility and reach in crowded commuter environments. For more info on Towner Eastbourne and to keep up with their exhibitions and events head to their website... www.townereastbourne.org.uk
The EFG London Jazz Festival – 2020
This year's EFG London Jazz Festival was billed as - Living in Two Worlds, an event that is both live and digital. The unprecedented circumstances of 2020 meant that they needed to rethink how music is experienced and deliver a festival that is accessible to a wide audience and transcends borders. Due to Covid-19, we knew that a majority of Londoners were working from home and staying closer to home at weekends too. Our usual locations in high-footfall central London weren't seeing the usual footfall or dwell times as in previous years and we knew we needed to change tact to deliver this campaign successfully. We identified the residential boroughs of previous ticket buyers and hand-picked high impact spots close to their local high-streets and homes – this meant we could guarantee high-footfall past our ads and ensure we were catching the attention of our target market. The festival was a huge success.​
Waterbear The College of Music – January Intake 2021
Waterbear are a leading name in music education in the UK offering a personalised and professional range of BA and MA courses for career musicians and producers. Our brief for this campaign was to reach 16+ students in regional locations and raise awareness of the college and its courses whilst they make their decisions on where to study for Uni. Firstly, we picked out the feeder college locations, then hand-picked our media to be in as close a proximity as possible to these colleges. Utilising bus shelters we placed ads at the stops used by students commuting everyday into college, many of the stops were directly outside the college entrances. Finally, we complimented the campaign with a burst of activity in local malls and city centre shopping districts throughout October half-term, to ensure the message was delivered with high frequency exactly where the target market live, study and hang out.​
Photoworks – Photography Festival 2020
Photoworks champion photography for everyone and are an international platform for artists and their audiences. They are a registered charity and the only organisation with a national remit for photography in the UK. Due to the global pandemic, it was impossible for the exhibition to be held in an indoor gallery space and we were approached to help strategise a solution for this year's event. The Photoworks mission statement is 'photography for everyone' and what better way to deliver that mission than to take the exhibition to street level!? We organised a walkable route of Boards through Brighton and Hove, taking in iconic landmarks along the way thus providing a significant addition to the artistic landscape of this beautiful city. We also utilised our local authority connections in Worthing and partnered with Collonade House to gain access to various dis-used shops in the town centre, transforming them into interactive art pieces to boost local engagement with the event and enhance the overall appearance of the town centre. The 2020 festival was received with critical acclaim and received both local and national coverage on major news and television networks.
Social Media
Social media advertisements are now part of every marketing strategy and it's easy to see why. With social media engagement and dwell times at an all-time high, securing sales revenue and brand awareness via well-placed and perfectly executed social media ads.
Utilising expert knowledge and advanced conversion tracking we continually evolve your campaign to guarantee increased return on ad spend (sales revenue).
Outsourcing your social media ads is simple and effective – save time and sell more!