Royal Blood - Brighton Poster Takeover ​
When we were approached by Royal Blood to run a special campaign ahead of their massive hometown show announcement - we couldn't resist but go old school with a Brighton wide print poster takeover. We flooded Brighton with A1 and A3 posters to tease the announcement ahead of the reveal on Radio X and the band used our photos across their socials to build further hype in the city. Royal Blood play Brighton Centre 15th September 2021 and tickets go on sale HERE from 9am Friday 3rd September. ​
Brighton Royal Pavilion - Summer Campaign​
Brighton's eccentric palace landmark is finally open once again promising to turn your 'Boredom to Blingdom'. Starting as a modest 18th century lodging house for Prince George, the Pavilion is arguably Brighton's most famous landmark. With this in mind, we were overjoyed to be approached by the team at Royal Pavilion and Museums Trust to design and deliver a bespoke outdoor media package to boost general awareness of their re-opening and drive visitors through their doors over the Summer Break. We fulfilled the brief with a multi-format media campaign encompassing Rail, Bus and Roadside assets to ensure we reached our target audience both in their local areas and whilst out for family days across Sussex. The combination of Rail, Roadside and Bus meant we could ensure multiple impacts throughout the target audience journey. For more information or to book tickets to visit Brighton Pavilion and Museums Trust click HERE. ​
Brighton Pride - Shopfront Takeovers ​
The latest edition in our series of takeovers in Sussex was unveiled this weekend at CHALK venue in collaboration with Brighton Pride. "The Identity Project" is a stunning collection of portraits of the LGBTQ+ community which is on display at CHALK, Ironworks Studios, Churchill Square and The Jubilee Library - Brighton as part of Pride month celebrations this August. This project would not have been possible without CRF funding from The Arts Council, England - for which we are incredibly grateful. For more information on Pride month celebrations this August in Brighton, follow the link HERE. ​
Colonnade House - Shopfront Takeover​
The third instalment of a very exciting project for us here at Ground Up Media has been unveiled in Anne Street, Worthing. We were very fortunate to receive our full CRF grant from Arts Council England in round 2 and as part of our application we proposed to transform disused retail spaces throughout Sussex to support local charities and promote the work of local artists in the area. Our aim is to promote positivity through art by brightening up our high-streets and engaging local communities across Sussex. For this location we partnered with Worthing Council and Colonnade House, Worthing's creative hub. Colonnade House is the home of local art in Worthing and provides studio and gallery space to local creatives, artists, designers and makers. The Ann Street location features art by 9 artists and groups who all have upcoming exhibitions at Colonnade House. Artists include; Peon Boyle, Amanda Beck, John Bond, Durrington High School, hello DODO, Owen Davey, Marina Leddy, Michelle Dawson and Ed Watts. For more information about Colonnade House please follow the link HERE. More from this project coming soon! ​
Time for Worthing - Shopfront Takeovers​
The second piece in a very exciting project for us here at Ground Up Media was unveiled last week in South Street, Worthing. We were very fortunate to receive our full CRF grant from Arts Council England in round 2 and as part of our application we proposed to transform disused retail spaces throughout Sussex to support local charities and promote the work of local artists in the area. Our aim is to promote positivity through art by brightening up our high-streets and engaging local communities across Sussex. For this super busy South Street location in Worthing, we teamed up with Time for Worthing, Summer in Worthing campaign. A local organisation whose aim is to welcome back locals to Worthing town centre as well as promote Worthing for summer day trips and staycations as we manoeuvre safely out of covid restrictions. Cllr Kevin Jenkins, Worthing Borough Council's Executive Member for Regeneration, said:"This project shows the true spirit of partnership working - working with business and third sector groups to showcase local talent to brighten up our town centre as lockdown restrictions are lifted. "I'm also pleased it gives us another chance to promote our Summer in Worthing campaign - welcoming back locals and promoting Worthing for day trips and staycations and a way of bringing colour and creativity to our town centre as major redevelopment works take place." The exhibition on South Street features recent work showcasing the diverse creative talents of local residents: Mark O'Halleron: Photographer currently completing MA at Falmouth whose latest project traces the route of Worthing's Teville Stream.Rachel Worsley: 2021 graduate in BA(Hons) Fine Art at Northbrook Metropolitan College uses PPE masks to create cyanotypes and sculptural forms.Steve Carroll: Colourful artwork of famous Worthing scenes and landmarks such as Worthing Pier, Dome Cinema and Worthing Museum.Jenny Latham: Uplifting illustrations promoting empowerment for young women. To find out more about Time for Worthing follow the link HERE. More to come from this project very soon!
End Youth Homelessness - Shopfront Takeovers ​
A very exciting project for us here at Ground Up Media is starting to be unveiled across Sussex! We were very fortunate to receive our full CRF grant from Arts Council England in round 2 and as part of our application we proposed to transform disused retail spaces throughout Sussex to support local charities and promote the work of local artists in the area. Our aim is to promote positivity through art by brightening up our high-streets and engaging local communities across Sussex. We are super excited to see these windows for the fantastic End Youth Homelessness charity go live in Brighton's Dukes Lane and Worthing's Montague Street - artwork by the fabulous Tess Smith Roberts. You can donate to the cause by scanning the QR code on the designs! Lot's more to come from this project very soon!​
We were thrilled to be approached once again by the team at AWAL to promote Nick Cave & Warren Ellis' new album 'Carnage'. Recorded over a period of weeks during lockdown, this is the first time Cave and Ellis (a longterm member of The Bad Seeds) have released an album of new songs as a duo, with Cave describing the album as, "a brutal but very beautiful record nested in a communal catastrophe." We opted for some high-impact boards across our regional cities to maximise awareness of the album and it's upcoming release date.
Black Deer Festival 2021​
After a long wait, Black Deer returns to Eridge to put on a festival fuelled by passion, experience and love. With its founders having worked with the likes of Bob Dylan and The Eagles, this experience promises the best of a bygone rural era. With the festival taking place deep in the countryside, we wanted to make sure we successfully hit their target market in the rural areas. To do this, we worked with the Tunbridge Wells bus fleet, which travels through Crowborough, Uckfield, Lewes, Brighton and surrounding areas. We complimented the campaign with B2s printed and distributed along Brighton Seafront, Hastings, Lewes and Tunbridge Wells. After a year of no music festival, we cannot wait for the return of Black Deer Festival!
Fabrica Gallery - The Forked Forrest Path (Olafur Eliasson)​
This Spring, Fabrica returns with a bang. Showcasing twisting pathways of a fairytale forest that sprang up in the imagination of the internationally renowned Danish–Icelandic artist Olafur Eliasson. This landmark work is one of Fabrica's most immersive and memorable exhibitions to date, helping them celebrating their 25th anniversary. Given their central location, we wanted Brighton centre and seafront to be plastered with Eliasson's imagery. For this we used our centrally located 16 Sheet billboard, hand picked Phone Kiosks and a range of B2s across the seafront walkway. We also used some of our prime A1 and A3 frames, from the North Laines to Hove.
The largest open access arts festival in England returns to Brighton. Embracing every form of artistic expression, Fringe supports both new and established performers in taking risks and finding new audiences. Being this anticipated and with such a beautiful creative, we were very excited to spread the word of Brighton Fringe 2021! We selected 16 and 48-sheets in the heart of Brighton and Hove, complimented with regional Bus Rears, Waitrose and Tesco screens and digital bus shelters across the South Coast. We also launched a 15K door drop campaign of both flyers and mini guides guides in hand picked locations across Brighton, along with a wave of A3 posters, to make sure every corner of the city heard the word!
Following a year of momentous disruption and hardship, Brighton Festival returned with its new programme, filled with joy and hope, aiming to play a primary role in the healing of ourselves and each other. With 94 shows taking place in May 2021, Festival deserved to hit the ground running as soon as the world opened up again. We distributed the campaign across the South Coast, using Digital and Classic Bus Shelters, Bus Backs, ASDA and Waitrose Screens, as well as a Door to Door flyer drop campaign. We then made sure A3 Posters remained across the city all the way through the month with our range of snap frames and poster locations.
Glass Animals - 2021 Tour​
Following one of the most exciting and creative releases of 2020, Glass Animals are set to deliver the captivating spirit of Dreamland to crowds across the UK this year. With such strong artwork for the album being rolled across the creatives for this campaign we knew it would be easy to make these ads stand out. We chose a mix of large format billboards and carefully selected phone kiosks to compliment in both target cities plus some classic Brighton seafront B2's to catch the crowds along the promenade this month!
Gerry Cinnamon – The Bonny Album Release 2020​
To celebrate the release of the 'definitive' version of Gerry Cinnamon's second album The Bonny we were approached by his team to hand-pick outdoor locations across the UK to granularly target his biggest fans, many of which would have already purchased the album in some form upon it's original release. We utilised digital 6-sheets in close proximity to record shops and areas of cultural significance in each target city with a statement piece D48 in his hometown of Glasgow. The album debuted at Number 1 upon it's release and was in the top 20 bestselling Vinyl albums of 2020.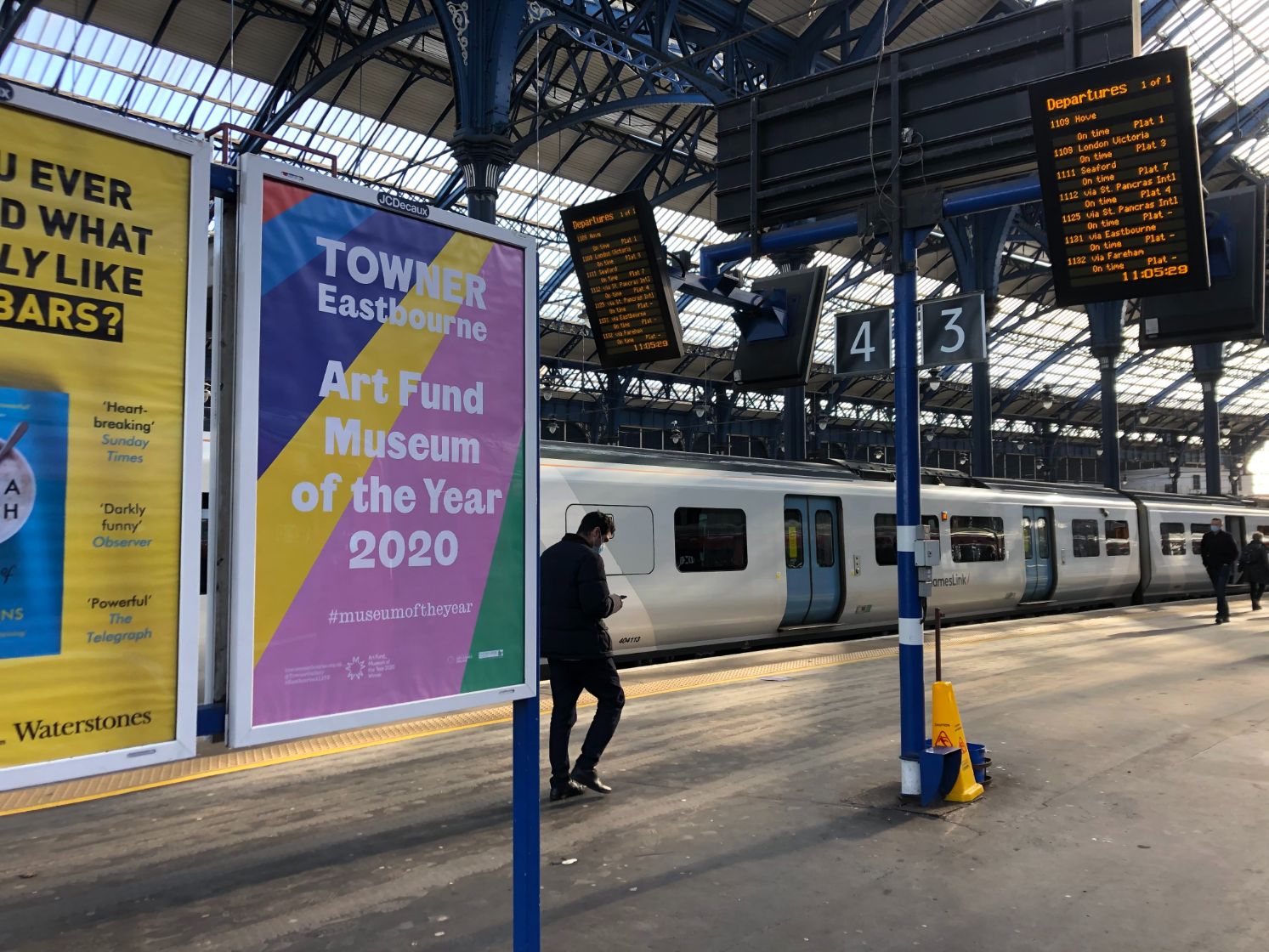 Towner Eastbourne – Art Fund Museum of the Year Award 2020
A fantastic achievement for the team at Towner Eastbourne to receive Art Fund of the Year Award 2020! We were approached by the team to help them spread the word far and wide and truly celebrate the achievement. We selected a mix of National Rail media covering commuter stations with direct rail links into London and Eastbourne itself. The creative for the campaign was super effective and ensured maximum visibility and reach in crowded commuter environments. For more info on Towner Eastbourne and to keep up with their exhibitions and events head to their website... www.townereastbourne.org.uk
The EFG London Jazz Festival – 2020
This year's EFG London Jazz Festival was billed as - Living in Two Worlds, an event that is both live and digital. The unprecedented circumstances of 2020 meant that they needed to rethink how music is experienced and deliver a festival that is accessible to a wide audience and transcends borders. Due to Covid-19, we knew that a majority of Londoners were working from home and staying closer to home at weekends too. Our usual locations in high-footfall central London weren't seeing the usual footfall or dwell times as in previous years and we knew we needed to change tact to deliver this campaign successfully. We identified the residential boroughs of previous ticket buyers and hand-picked high impact spots close to their local high-streets and homes – this meant we could guarantee high-footfall past our ads and ensure we were catching the attention of our target market. The festival was a huge success.​
Waterbear The College of Music – January Intake 2021
Waterbear are a leading name in music education in the UK offering a personalised and professional range of BA and MA courses for career musicians and producers. Our brief for this campaign was to reach 16+ students in regional locations and raise awareness of the college and its courses whilst they make their decisions on where to study for Uni. Firstly, we picked out the feeder college locations, then hand-picked our media to be in as close a proximity as possible to these colleges. Utilising bus shelters we placed ads at the stops used by students commuting everyday into college, many of the stops were directly outside the college entrances. Finally, we complimented the campaign with a burst of activity in local malls and city centre shopping districts throughout October half-term, to ensure the message was delivered with high frequency exactly where the target market live, study and hang out.​
Photoworks – Photography Festival 2020
Photoworks champion photography for everyone and are an international platform for artists and their audiences. They are a registered charity and the only organisation with a national remit for photography in the UK. Due to the global pandemic, it was impossible for the exhibition to be held in an indoor gallery space and we were approached to help strategise a solution for this year's event. The Photoworks mission statement is 'photography for everyone' and what better way to deliver that mission than to take the exhibition to street level!? We organised a walkable route of Boards through Brighton and Hove, taking in iconic landmarks along the way thus providing a significant addition to the artistic landscape of this beautiful city. We also utilised our local authority connections in Worthing and partnered with Collonade House to gain access to various dis-used shops in the town centre, transforming them into interactive art pieces to boost local engagement with the event and enhance the overall appearance of the town centre. The 2020 festival was received with critical acclaim and received both local and national coverage on major news and television networks.
Nick Cave – Ghosteen Album​
We're massive fans of Nick Cave & The Bad Seeds here at GUM HQ and it was a delight to be approached by his team to work on the release of their seventeenth studio album, Ghosteen. The brief was to drive physical sales of the album upon its release and raise awareness of the accompanying tour dates throughout the UK. We chose a mix of high impact roadside billboards in high-footfall, culturally significant locations to deliver big and bold. A man like Nick Cave needs no introduction, but the stunning album artwork, which formed the creative of our campaign, ensured a strikingly eye-catching set of ad placements, setting it apart from all other media it its surrounds. The album has since gained huge critical acclaim and is the highest rated album of 2019 on Metacritic. The accompanying tour Sold Out across all dates.